Click here to view more photos from last years 2008 TCRA Seminar
May 15, 2009
Tour of DACCO CONVERTERS
May 16, 2009
Expert Speakers and 
Technical Presentations
TCRA (Torque Converter Rebuilders Association) has announced the venue and program for it's 12th annual seminar and meeting. This major industry event will be held in Nashville, TN on Friday and Saturday, May 15th and 16th. Mark your calendars now and plan to attend this important event.
On Friday, May 15th, attendants will be bused from the Renaissance-Nashville Hotel, the host hotel, to Dacco Converters, in Cookeville where they will be given a guided tour of this major torque converter rebuilder. After a catered lunch at Dacco and return to the hotel, there will be a TCRA member meeting. The meeting agenda will include the election of TCRA directors and officers for the next term.
The Saturday, May 16th class room format seminar will feature presentations by industry experts, vendor representatives and technical organization speakers. A sit-down steak luncheon and coffee breaks will be included in the fee, as will a reception at the hotel following the seminar. These activities are be sponsored, in part, by Sonnax and SuperFlow Technologies.
This promises to be to the best Torque Converter Rebuilders Assn. Meeting and seminar ever.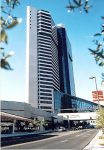 Hotel: Renaissance Nashville
611 Commerce Street
Nashville, TN 37203
Phone 1-800-327-6618 or 1-615-255-8400
A block of rooms will be held until 5PM April 14, 2009 at a special rate of $119 for single or double.  When reserving, you must mention "TORQUE CONVERTER 2009" to get the special rate.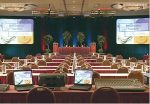 Tuition will be:
$225 for members, and $175 for other member attendees from the same firm
$275 for non-members, and $250 for other non-member attendees from the same firm.
Included will be the tour of Dacco, buses, a sit down served steak lunch on Saturday, breaks and a cocktail reception on Saturday, sponsored in part by Sonnax and Super-Flow Technologies.
Click here to view more photos from last years 2008 TCRA Seminar
For more information contact Len Wack at 973-293-8925 or lenw@embarqmail.com.
Dacco has been instrumental in the growth and development of TCRA and that they
are proud to host this years seminar
In the mid 1960's, an Ohio businessman named Jim Hall recognized the need for an
alternative to expensive original equipment torque converters. A small workbench operation
grew as Hall explored converter remanufacturing. Realizing the potential for this
new product, Hall purchased a manufacturing facility in Dayton, Ohio to acquire the tooling
necessary to begin production. Thus the Dayton Air Compressor Company became
known as DACCO, Incorporated.
In 1971, DACCO relocated to a ground-up rebuilding plant in Cookeville, Tennessee.
From our thirty employees and two delivery trucks, the company continued to expand. In
1972, DACCO revolutionized the aftermarket by creating an outside sales force that not
only sold DACCO converters but delivered them throughout the country via company
owned tractor-trailers. This bold move began the expansion of the DACCO distributor network
across America.
DACCO opened its first full line transmission parts location in Columbus, Ohio in
1977. During the late 1970's and 1980's, DACCO continued to expand our store network
through a combination of acquisitions and planned organic growth.
The company continued to grow its distribution reach during the 1990's, reaching our
current apex of over 150 DACCO distributors and over 50 company owned DACCO
Transmission Parts locations. Through nearly four decades in business, DACCO remains the
largest remanufacturer of torque converters in the United States.